About NY Canals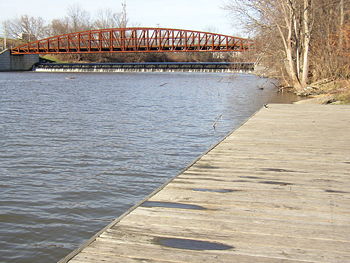 While planning a trip from Oneida Lake to Lake Champlain and back in 2006-7 I (Greg) found it very difficult to find detailed information about boating on the Erie Canal and Champlain Canal (and Lake Champlain for that matter) all in one place. There are many good sites out there, many that included trip reports, but trip reports only discuss what that particular canaller did and excludes entire towns that were passed by, or were very local and only discussed certain sections of the canal. Therefore due to the lack of free concentrated, detailed, online materials regarding the New York State Canal System and surrounding towns and waters, in early 2007 I created this site, NY Canals, to hopefully allow others to enjoy what the canal system has to offer, without spending countless hours trying to find information scattered across the web. (note there are other good sites, see Canal Links for more information.)
This site is designed to give you an in depth guide to the canals of New York, including information on the canal systems towns, locks, and must-do activities. There is a forum and Trip Report Blogs so I and others can share experiences on the canal. The blogs are open for anyone to create and share, as well as you can read others and post questions and comments directly to the writer.
Everyone experiences the canal differently, and accordingly people are looking for different things when searching NY Canals. If you feel that something is missing from a page in this guide, add it! This guide is setup so anyone can edit it (look for the edit tab at the top of the page), and hopefully that means that nothing will be missed. Add any information that you feel would be useful to other boaters, including but not limited to your pictures, trip reports or local data.
Contact Us
If you have any questions or would like to contact me (Greg) please feel free to contact me:
Gregory Moore
PO Box 67
North Bay, NY 13123
mail<at>nycanals.com
or just use the NY Canals Forum
Copyright and Disclaimers
This site is dedicated to providing information about the waterways in and around New York. All information is provided and edited by users like yourself, and thus its accuracy and detailed information cannot be confirmed. Thus, this resource is to be a reference for planning trips by providing you with a background of what an area has to offer as well as its history.
This site is not a replacement for proper preparedness and common sense. This site should not be a replacement for you making your own decisions and knowing local regulations. Also, regulations and amenities change over time, thus be prepared for encountering an environment that is not exactly as it is described.
Do not rely on this site for detailed information; Use this site to get ideas and to learn about New York's waterways, then consult a local lock master, guide, or other knowledgeable person for such detailed information.
Due to the hard work that has been put into creating this site and its vast database of information, we have decided to copyright this site from reproduction in any way, in part or in whole. This includes that it cannot be republished in print or another website. By using and contributing to this site you agree that all edits, comments, forum postings, blogs, and uploaded files become copyright NY Canals, and may be reused by NY Canals as appropriate.
Thanks for supporting NY Canals and keep up the good work!